Travelling South in Style
Incredible India and its equally incredible places!
India is what it is not only because of its culturally rich states but also because of the people that give meaning to those places. Anyone who has visited South India wouldn't agree less.
Say for example; the beautiful beaches, the ancient and historic temples, the long held traditions, the never ending gorgeous roads and the most important part are the ever helpful people.
Have you ever wandered off alone to an exotic place? If no, then let me tell you that the only way to enjoy true beauty of a place and to find peace within that beauty is to travel solo. After extensive planning, research and budgeting, I decided that I would start my journey from Kanyakumari. The most I like about travelling is that I get to see places and meet people. What better way to meet people than to travel via train?
And so my journey begins!
I started my journey from Bombay (I know, I know, Mumbai, but Bombay has a different ring to it) via Kanyakumari Express which took 39 hours to reach Kanyakumari.
Kanyakumari
The southernmost tip of India, Kanyakumati falls in the state of Tamil Nadu. Being surrounded by ocean from three sides, it is the only place which has an ocean sunrise and sunset view in India.
Kanyakumari town has been named after the Goddess Kanyakumari Amman who is believed to be an avatar of Goddess Parvati. The people here can talk Hindi and English so feel free to ask for directions rather than wondering 'Jaane kahan aa gaye hum'. 😛
Places in Kanyakumari that warrant your attention are:
Vivekananda Rock Memorial
Kanyakumari Temple
Kanyakumari Beach
Wax Museum
Thiruvalluvar Statue
The people here love to eat, it can be vegetarian or non-vegetarian and so do the restaurants.
Let me tell you one thing though, the vegetarian food here is to die for (well, not literally).
Some restaurants that you can explore:
Hotel Saravana – A little on the expensive side.
Darbar Multi-Cuisine Restaurant – Expensive.
Ending my day 1 here.
From there on, I went to Poovar (Backwaters) which is around 68 kms from Kanyakumari.
Poovar (Backwaters)
Poovar has a charm of its own what with the view of union of backwaters, river and sea. It is said that Kerala tourism is incomplete without a visit to Poovar Island. It is famous for its unspoiled and unexploited beaches with golden Sand. And where there are beaches, there are shacks.
End my Day 2 by visiting a restaurant with a beach view which is Chilli's floating restaurant which in itself is a unique concept. It is moderately expensive but worth trying.
Points to note here:
Minimum expense of Poovar backwaters is INR 1500 for a duration of an hour.
Day 3 and my next destination is Dhanushkodi, which is around 239 Kms from Kanyakumari. (It is advisable to hire a personal vehicle to travel via road.)
Dhanushkodi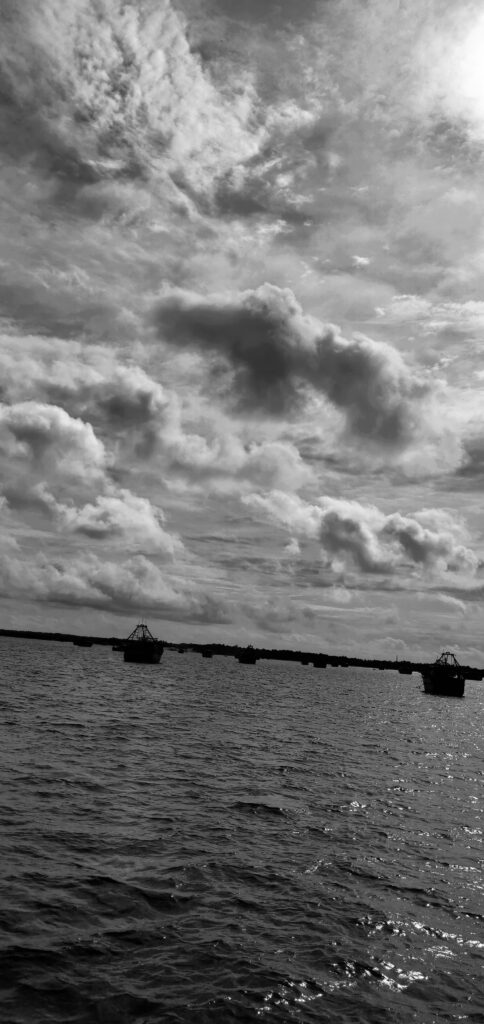 We are all aware of Ramayana. If not read, I am pretty sure you are up to date via our television series of Ramayana. Well, that was one inspiration to keep going during that first phase of Quarantine. Let's not get distracted. So yeah, about Dhanushkodi, it is believed that it was here where Lord Rama had ordered Lord Hanumana to build a bridge that could carry his army across to Sri Lanka, specifically known as Ram Setu.
Do not, I repeat, do not miss out on visiting the breathtakingly beautiful beach of Dhanushkodi.
Dhanushkodi is well known as Ghost town. The reason behind this name is the devastating 1964 Rameswaram cyclone that wiped the entire town clean.
Mr. Fish is a must visit restaurant in Dhanushkodi. Though it falls on the cheaper price point, the food here is amazing.
Moving to Day 4 of travel from Dhanushkodi to Rameswaram which is approximately 20 kms. away from each other.
Rameswaram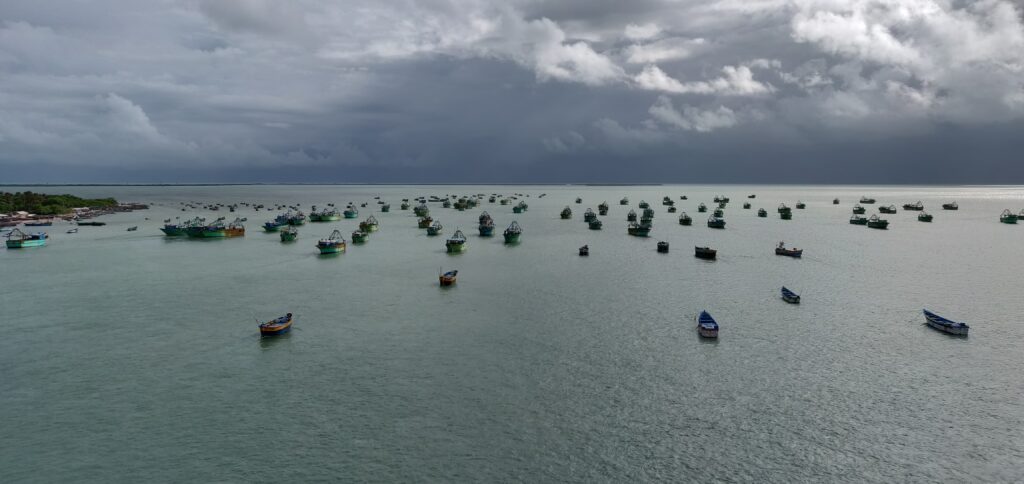 As the name goes Rameshwaram mean 'Lord Rama'. It is said that Rameswaram is a town where spirituality pushes through into the real world. Being a part of the Char Dham Piligrimage, it is considered as one of the sacred and holiest places in India. It is here that Lord Rama built a bridge across the sea to Sri Lanka to rescue Sita from Ravana. (Just because Lord Ram tried to do it, it is unadvisable for us mortal beings to try something like that).
Whilst you are in the town, do visit MCM Restaurant for your meals which is famous for its cheaper price points with amazing food quality.
Tourist Attractions in Ramaeswaram:
Ramnath Swamy Temple
APJ Abdul Kalam House
Pamban Bridge
Ruined Temple/Church of Dhanushkodi
Siva Boating
On Day 5, I proceeded towards Padmanabhaswamy temple which is approximately 372 kms. via road.
Padmanabhaswamy Temple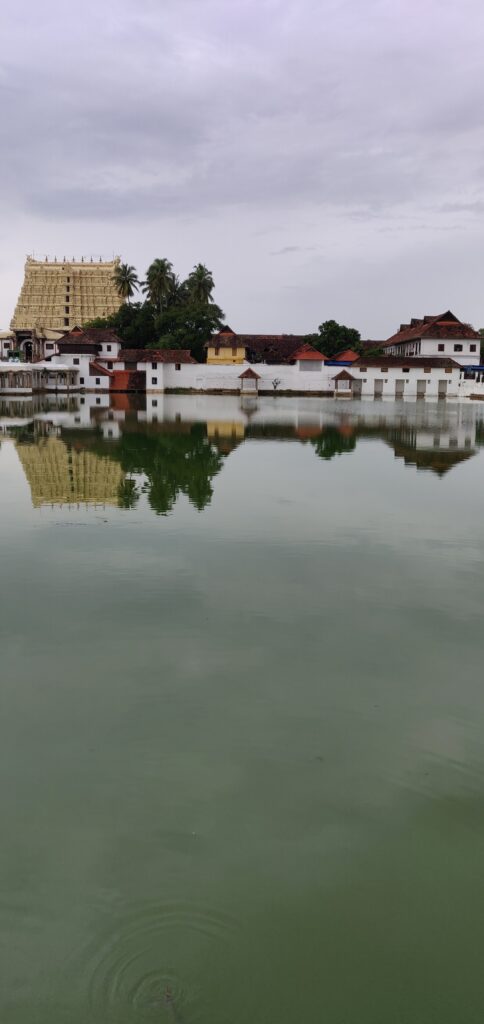 Padmanabhaswamy temple, located in Thiruvananthapuram in the state capital of Kerala, India.
The temple itself is a tourist attraction and is something of an enigma, mainly because of its reputation as one of the richest temple in the world and the treasures it holds in its vaults.
The temple is built in the unique Chera style of architecture, and its main deity is Lord Vishnu who is found in the Anantha Shayana posture (reclined posture of eternal yoga) on Adishesha (famously known as the king of all serpents). Non-Hindus cannot enter the temple. Dhoti is mandatory for male pilgrims and Saree for females. The structure of the temple wall is awesome. The view of the temple is really mesmerizing from the outside if you can't enter the temple.
This is a must visit temple mainly because of its historic significance and secondly because the built of the temple itself holds meaning and warrants attention.
From Padmanabhaswamy Temple I travelled 290 kms. ahead towards Munnar via road.
Munnar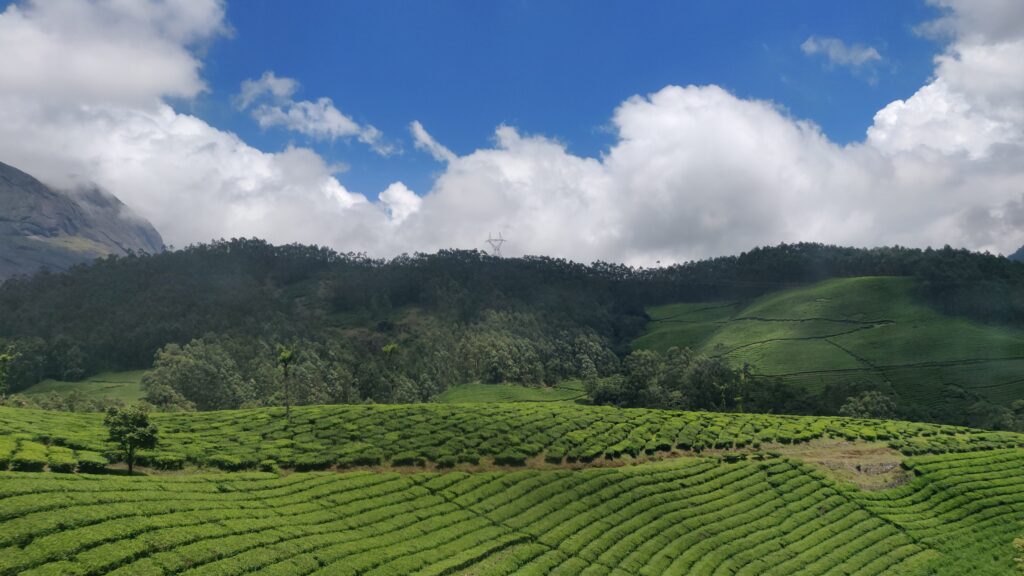 Oh, Boy did I fall in love with this city.
The lush green city, the tea fields, the people, the mountains and the roads create the picture perfect scenario.
You wouldn't find a reason to not fall in love with this city here.
Go with at least a 2 day plan to visit Munnar itself because the list of attractions here is huge.
Must must must (I cannot emphasize enough here) places in Munnar:
Echo Point
Top Station
Tea Museum
Eravikulam National Park
Wonder Valley Adventure & National Park
Kundala Lake
Marayoor Dolmens
Mattupetty Dam
Photo Point
Devikulam
Kolukkumalai Tea Estate
Rose Garden
Floriculture Centre
I would highly recommend getting your lunch, dinner and breakfast done in Saravana Bhavan. A nice little, cozy place with the kindest people who just want to serve you right. The food here is delicious. I am telling you, 'peth bharega but mann nahi bharega'. Don't get fooled by the ambience and price point which is on the lower side, the restaurant makes up for everything in the food quality.
Another suggestion would be to explore Rapsy restaurant which is also moderately pricey.
Though I did not want to leave Munnar ever, I had to unwillingly moved towards Thekkady which is approximately 86 kms away.
Thekkady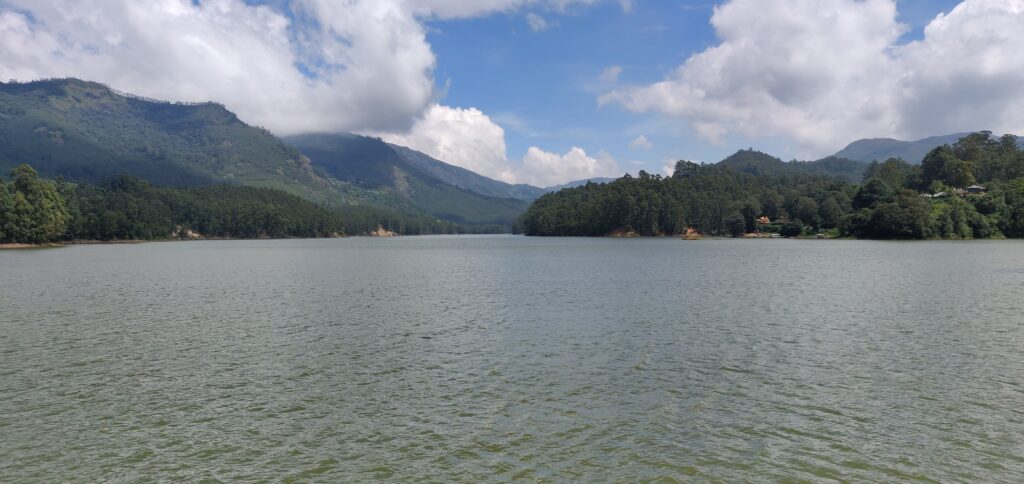 One of the best cities to visit in 'Gods own Country' and one of a kind tourist attraction specially for wildlife and nature lovers. For years' people have horded Thekkady for the sight of majestic elephants, tigers and spice plantations. If you are going to Thekaddy, you might as well experience the Ayurvedic messages in Ranger Woods. This space is specifically known for the messages and its ambience.
Places to visit in Thekkady:
Kadathanadan Kalari Center
Periyar National Park
Kumily
Periyar Lake
Spice Garden
Places to eat at Thekkady:
– Kitchen Utopia – Highly recommend this place for its food, amazing view and mainly because the owner is a nice chatty guy who loves to acquaint and provide good food suggestions. Though on a moderately expensive price point, the food here is equally good.
– Hotel Ariya Bhavan
Alappuzha
Formerly known as Alleppey is the 'Venice of the East'.
Alappuzha is famous for its picturesque backwaters and its vast network of waterways.
Tourist Attraction:
Vembanad Lake
Alleppey Beach
Kuttanad Backwaters
Kumarakom Bird Sanctuary
Places to eat in Alleppey
Thaff Restaurant has a moderate price point.
The Harbour Bar falls on the expensive side of the scale.
From Alappuzha, we went to Kochi Airport and from there back to pavilion.
The whole trip had an amazing feel to it. All the cities are equally diversified to give you a wholesome experience. Trust me when I say, South tourism gives you an enriching experience. The minutest historic and geographic significance and mythological hold is enough to entice you to these places.
If you have been to South India, we would be more than thrilled to know about your experiences.
Do check out our other article that will give you an inspirational kick to travel.