About 'THOUGHTS IN WORDS'
Welcome to Thoughtss In Wordss!
Created and managed by an author and writer trying to evoke your feelings and spur memories. The sole purpose of her writing is to offer a way to escape your mind and experience a magical world, far far away from your problems.
"Thoughts In Words" chronicles random thoughts mostly related to life, current events and incidents. Here every thought become words…
Note: Every content published on this website is purely the property of the writer. It is not to be used by anybody commercially and non-commercially. 
Various channels:
Facebook: https://www.facebook.com/thoughtssinwordss/
Twitter: https://twitter.com/thoughtinword
Instagram: https://www.instagram.com/thoughtssinwordss/
YouTube: https://www.youtube.com/channel/UCSN9iALJUv1sNFDX72xzUyg
About 'ME'
Shibani Shah, Author & Writer
To all those who live in a competitive city like Mumbai and survive the ugly competitiveness, you're doing something right. And looks like so am I!
Wondering how?
I play my card, I lose & I still keep going

I feel deflated, I feel flat & I still keep moving

I am scraped, I am broken & you still see me standing

😉
That counts for something, right? Now, let me introduce myself before you start making assumptions of your own, and make a picture of me that will be nowhere alike. Not that whatever you perceive of me makes any difference to me, I am a huge believer of the saying, "Let the world make a picture of you, you are beyond that mere depiction." And I am just a human trying to dissolve that picture depicting me wrong. Yup, I have had my share of people judging me with their lenses and giving me a hard time in accepting who I am. Fight is still on though! 
Well, that was not my introduction. Of course, I am a human, but that can't be just it, right? I am a dreamer, I am a follower, I am an achiever, I am a loser, I am a mastermind, I am a no one. But above all, I am a writer, who loves to share what comes in her head (Don't worry, it's filtered. I don't believe in subjecting you to rubbish thoughts 😛) Yet, you will be subjected to some mind-blowing write-ups if you follow me on this space. Who knows you might even start liking my work and/or me?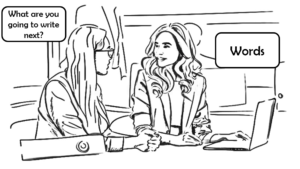 Despite all, one thing is guaranteed, you will never get bored out of your mind. Because I love to spread smiles and you can be my test subject. And my plan is to bring some crazy content to this space and give you some moments of comfort and fun. I learnt my tricks of surviving in Mumbai with a smile, why can't you? It's our lifestyle that keeps us on our toes throughout the day, and yet the day seems to be short for most of us, but a few minutes of reading what makes you feel relaxed and calm is worth your lost time. I make a point of reading and writing in my busy schedule. It gives me a new perspective and meaning to my daily life, can't forget the much-needed break too. If you're wondering what I do in my professional life, please don't, because I write. Yup, even there I write. Best choice ever!
Well, it's time to wrap my crazy introduction and bid goodbye till we meet again here. And if we happen to bump in Mumbai before that, we just bump, duh! 😊