Children are meant to learn, not to earn!
Almost one in ten children worldwide are in child labour. Their childhood is compromised by the mistakes of those who brought them in the world, or unfortunately, sometimes by the nature's gameplay. In both the cases, the kids of today are forced to leave their future behind, and they struggle through their daily life while they should be learning for tomorrow. Childhood memories are the ones we cherish for the lifetime, don't you agree? Than don't they deserve to have good memories too? If children are forced to go to workplace instead of school, we are shutting the doors to a bright future for the coming generations. There's truth behind 'the privileged prevails and the underprivileged perishes'. It's the truth we have made. Now is the time to bring in changes and develop a better system that allows every kid to have a chance at a bright future.
As we have progressed in technology, economy and let's not forget open-mindedness, in 2002, a special organization on labour – International Labor Organization (ILO) – launched World Day Against Child Labour in order to take action to remove the issue of child labour. Each year on 12th June, the World Day brings together governments, companies, non-profit (CSR) organizations, civil society as well as millions of people from around the world to create awareness among people about the plight of children working as labourers.
Although, it forces me to question, is this all that's needed to make a universal change? Presently, all I understand is that we are making a difference by doing something. And when everyone joins in to do something, we will do a lot and that might be enough to ensure the right future for every kid.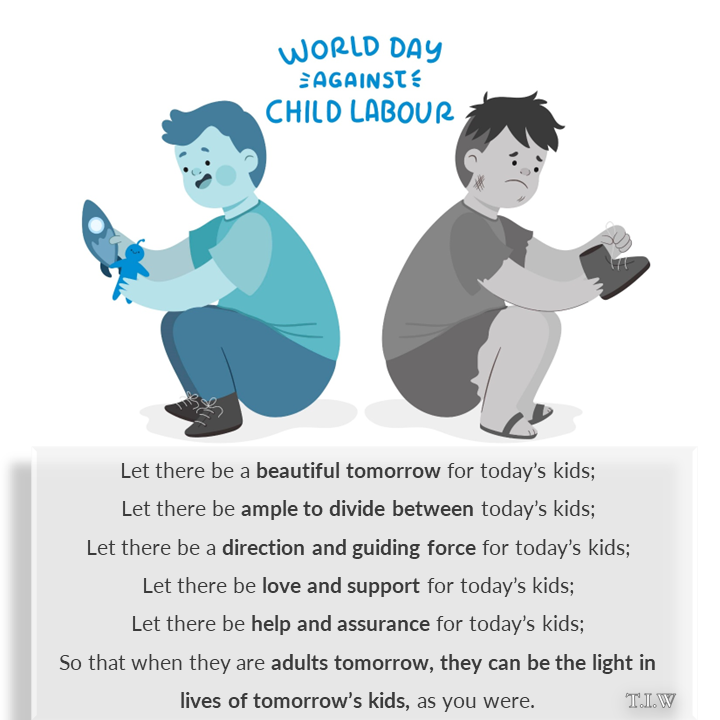 Even if you are not able to make a huge difference in a kid's life, you can always start from small. All that matters is everyone doing something in their capacity to have a lot done collaboratively. There are various shelter homes were the kids with no parents or guardians, the authority who works there becomes their caretaker. To make them feel special and happy in addition to securing their future one kid at a time, you can sponsor their education and bring in goodies that will not just be useful in his/her growth but also fun to play with.
Here's some items you can bring in to see that beautiful smile on their faces:
VikriDa Educational Learning Kids Laptop, LED Display, with Music (Assorted Color) – Recommended Ages 3+
Specifications:
Colour: Blue
Material: Plastic
Auto Power Saving System, Voice Support and LED Screen.
Learning Number (1-10), Learning Letter (A-Z), Learning Relative words, Learning Letters, Number, Song, etc.
Games: Catch falling objects. Find the match pair. Star shooting. Draw a picture.
Specifications:
10 Pages (E-book) with various images such as Letters, Numbers, Fruit, Animals, Vehicles, relationship, Musical instruments.
Children's Rhymes and story in complete electronic language, touch pad model, clear phonics, in English.
Playshifu Plugo Letters – Spelling & Word Game with Stories – Recommended Ages 4-10
Specifications:
Colour: Multicolour
Material: Plastic
AR-powered word building kit
Features spellings through phonics (ABCs), word usage in sentences, grammar, and language concepts like nouns, verbs, tenses, etc.
Five interactive games and 250+ levels