Short Stories: Sarah's Trip To Ocean Breeze
A short romantic story about a teenage girl whose passion for dancing makes her meet the true love of her life. Read how Sarah meets Joe in a night club while strip-dancing to her favourite song here. In this part, you will read about Sarah and Joe's trip to a secluded beach resort with their friends from work for some friendly fun, but the visit becomes more personal and intimate for the two of them.
(Read in the sequence for the best reading experience)
---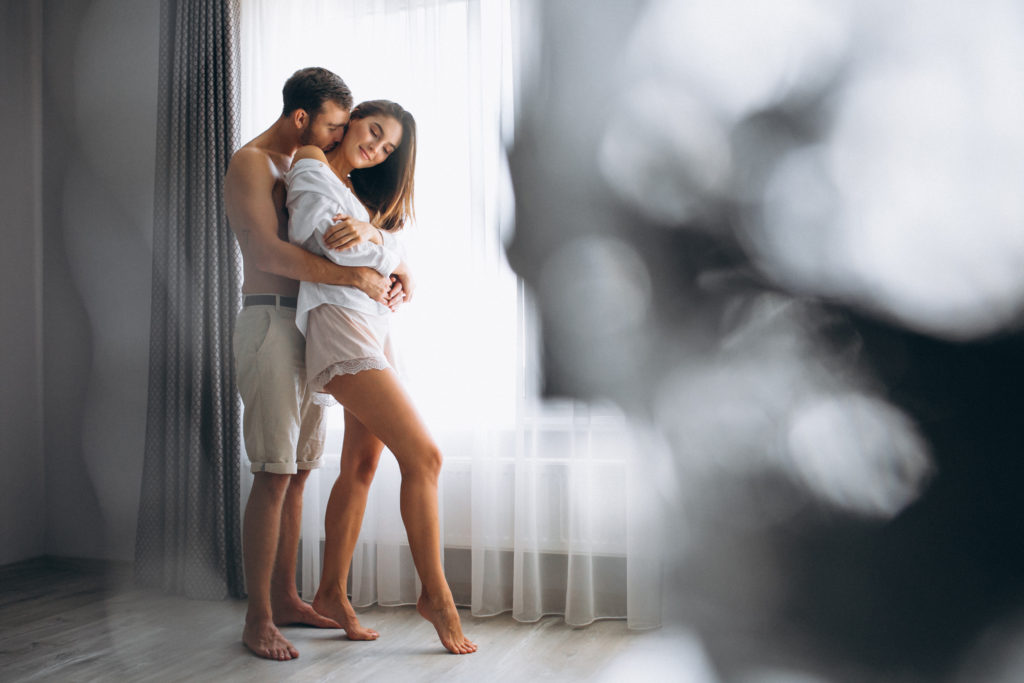 "I am telling you this weekend would be more like keeping Tiger busy with Jennie," Rossie broke the silence with her comment. We had been travelling for the past two hours in Joe's car as he drove; I claimed the passenger seat while Rossie and Ash took the back seats. I was relieved when Jennie informed that she would be travelling separately with Tiger. Another half hour and we would reach the Ocean Breeze resort for our weekend stay. I was looking forward to the time spent with my friends and my boyfriend-cum-lover-cum-everything. After the dinner with Joe's family last weekend and the quality time spent with them, I was looking forward to another fun weekend.
"That won't be needed. Tiger will take complete advantage of this time getting some bed action."
"You mean bed-couch-bathroom-table-etc. action. No, I mean Tiger is one piece of the disaster from hell who would try to seduce Sarah at every given chance, and spoil our weekend."
"Nah, I am not worried about that. He'll find several fishes in the pond to swim with," Joe replied as he took an exit from the expressway.
"Now, I worry about those said fishes," I added and sighed. I agreed with Joe but deep down some doubts lingered.
Ignoring my last comment, Joe continued, "And he won't try anything foolish as I won't leave Sarah alone for a minute."
"Sorry, I revise my easier statement," interrupted Rossie and continued, "I am telling you this weekend would be more like keeping Joe away from Sarah." Rossie giggled as I followed while Joe and Ash laughed, their voices echoing in the confines of the car.
Rossie chuckled and added, "Not that I don't want you two love birds to have your alone time. Just keep that alone time for the night. Do you promise?"
"We will definitely try," I answered and Joe snickered.
Ash laughed and added, "I'll go with Joe's answer."
I'll go with Joe's answer too. I didn't believe my answer when I said it out loud. Spending two whole days with Joe at this romantic place was like dream come true. And I would do anything to make that dream come true.
I looked at Joe and found that he was looking at me with so much affection and hunger in his eyes that it made me wonder how a guy could pull both the emotions so effectively. I could read in his expression of what I should be expecting from our weekend. And I was looking forward to it.
"I and Ash would like to reach the resort in one piece, Mr Williams," Rossie said with a deadpan look. Ash laughed and replied to her pun, "Rossie, you are a devil. Leave them alone." But, that Rossie definitely did not do throughout our journey. Our little-hearted jokes and conversations kept going till we reached the entrance gate of the resort we were staying at.
"This," Rossie said after a pause with an awed expression, "is the most beautiful place I have ever seen."
"Double that. By the end of the weekend, I would cry when leaving this place," Ash replied in a similar tone.
"Why don't you apply for the position of a bartender here? Your professional life and personal life at its best," Rossie suggested wagging her brows dramatically.
I laughed and added, "He'll be more vested in his personal life here."
"Let's keep the thoughts of work out of our weekend," Joe said. Taking my hand, he added, "I have many things I would like to focus on and none are about work."
I blushed and Rossie and Ash laughed as Joe took a turn towards the main building. We stepped out as the valet took care of Joe's car and twin bellboys handled our bags. Together, we walked to the reception and got checked in our respective rooms.
"Where's Jennie and Tiger?" Ash asked looking everywhere in hopes to find them wandering around. Joe returned with the key cards for all of us and answered Ash's question. "They have checked in an hour back."
"Great. I'll drop Jennie a message about meeting us at The Umbrella. It's the most popular bistro at this resort, so I have heard," Rossie suggested.
"Let's freshen up and meet there in half an hour," Joe recommended as we walked in the waiting lift and started ascending.
"Deal," said Rossie just as when Ash said, "Cool."
We dropped off on our floor without another word and headed towards our rooms.
I and Joe shared a room at the far end of the floor while Rossie and Ash's rooms were closer to the lift. Once inside, Joe closed his arms around my waist and pulled me closer. I always loved the way he grabbed me and held me tightly against him. I breathe in and filled my lungs with his intoxicating scent. I missed this during our journey. I missed kissing him or fondling him intimately; I had to avoid unwelcome attention of my friends. Yeah, I wasn't much an exhibitionist.
I looked up at him and he leaned down for a scorching kiss. His mouth on mine was like I was drinking from the natural reservoir and he supplied it in abundance. I never wanted to stop. He caressed my waist, hips, arms and face with his gentle hands. Lifting me up, he took us into the ensuite bathroom and removed all our clothes in record time. He kissed me one last time before moving to the shower and turning the damn thing on.
As soon as the water turned warm, I walked to him and into his waiting arms. He caressed me again with his soap-covered hands and it made me melt in his arms. His hands were gentle at the right places and pressing at the most intimate areas of my body. He leaned in and kissed the sensitive spot on my neck, sucking the skin hard. I moaned and he continued with his ministrations on my cleavage, kissing as he moved down. I grabbed his hair and tried to pull him up but he continued towards his target.
My hips moved with its own accord when he reached the sensitive bud. He kissed, licked and sucked till I was squirming in the place. The water kept hitting on us as Joe brought me to a satisfying orgasm. He stood and leaned to kiss me brutally. I was blissed out to not give a damn about how hard he was on my lips. As the cloud of ecstasy faded, I realised he was pumping himself wantonly. I moved his hand away and took his length in my hand. He groaned and jerked his hips for more. I did as he wanted and as he liked to be stroked, rubbed and controlled. Soon he came with a guttural sound that made me feel whole from within.
I smiled up at him and he returned my smile with his beautiful grin. He leaned and kissed me gently. After washing ourselves, we climbed out of the shower and wiped each other with the resort's soft towels.
"I'm super hungry now," I confessed as we walked back to the room in our ropes. Joe lifted the bags and opened them on the luggage rack to unpack our clothes.
He said as I stood next to him, "You want round two?"
I playfully hit him on his bulging arms and he smiled. Kissing my head, he replied, "Let's get dressed and go to the bistro."
Joe and I got dressed and ready to leave within the next 15 minutes. I tied my hair up as the beach-side was windy. We took the lift down and walked out towards the lobby area. After checking the route to the bistro, we walked out the main hotel building. There were many cottages at this resort aside from the luxury suites in the 15 storey building. This place was bustling with tourists from across the country, probably across the world.
"I like this place. It's vibrant and so many things to do here," I said excitedly.
"What would you like to do?" Joe asked.
"I have a long list actually. Spa, clubbing, Go Karting, swimming in the infinity pool, beach play and kayaking."
Joe laughed affectionately and said, "We might not be able to do everything this weekend. But I promise we'll come back soon to complete your list." He leaned and kissed the side of my head.
"Yes. Let's do what everyone else also wants to do. We are here to spend some time with them away from the stresses of the city."
"I agree. But if they ask me to sit for a prepping session at the salon, then I am out. It's one of my hard limits," Joe replied with conviction.
"You don't have many hard limits. I'll remember," I whispered, looking up at him with a seductive look.
He smiled and stopped making me halt in the middle of the pathway. Our kiss went on till a few giggles made us look up. It was a group of teenage girls laughing, blushing and looking at us. I smiled at them and took Joe's hand before walking away.
As soon as we reached the bistro, the first thing I noticed was, "I don't think this is the bistro we planned to meet at." Joe looked up at the name board and winced.
The board on top of the front door read 'Little Pleasures – signature French desserts'. Realising a guy wearing the resort's uniform, Joe stopped him and asked where 'The Umbrella' is located. To our horror, the chosen bistro was on the other end of the resort.
As soon as the guy left, Joe turned and gave me his biggest smile to my utter surprise.
"Why are you smiling?" I asked tentatively.
Holding me close to him, he started walking inside the patisserie. Whispering in my ear, he said, "I didn't even plot this and here we are, just the two of us spending time together."
I groaned half-heartedly and replied, "Rossie is going to have a field day on this." I nuzzled my face on his side and wondered how I was going to face everyone.
Yet, I didn't mind some alone time as we shared the tastiest breakfast (and the most sugary one).
---
To be continued…